Theme: sanitation, garbage, electricity
Garbages were piled up at each sides of roads, and spontaneously eaten by goats or dropped into the sewage and continued to remain.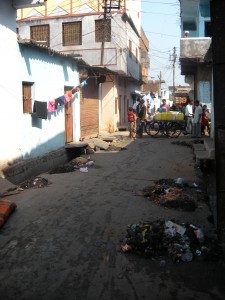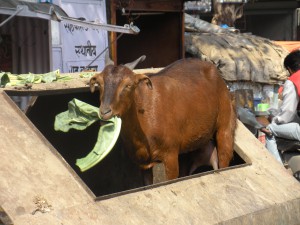 Basically, channels of sewage were located around the houses.
■Hearing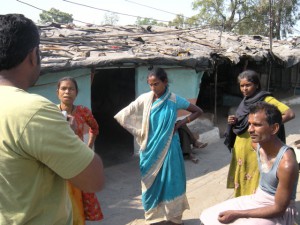 we had to run away to itarsi and after three days when we returned we couldnt go to our homes .we had to camp at arjun singh,s home for five days .
i lost one daughter in the tragedy and my one eye has also lost 90% of vision .
even now when we stay here the we don]t have access to clean drinking water.
q:did you get the compensation amount
a; we got Rs 22,000 in the first time .the dalal took away a big chunk of the money.
in the second installment we received onlyRS 8,000 ,rest of it was fines because of the sugar and oil the government had given him.
q:why cant u keep the area clean by cleaning it yourself.
we do clean it at times but we want the government do do more.
the electricity is cut daly for five to eight hours daily. and they charge us a lot of money for whatever they supply.sometimes we are charged about RS1000 at months and if we complain they threaten to cut out our supply.
q:why havent u asked for a public toilet facility?
a: we have requested many times but there was no action taken on this front.that is why the nalla;s are all littered and not cleaned .we cant help but but just live with it
q:do your children go to school are u literate?
a: we have never been to school but our children do go to the local government school;s nearby.